Jenny Jones homecoming parade
This news article was published more than a year ago. Some of the information may no longer be accurate.
Published: 06/03/2014
---
​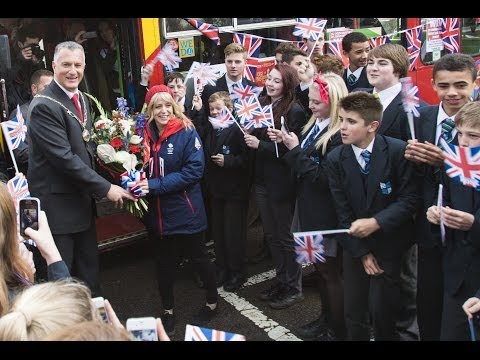 Jenny began with a visit to her old primary school in Hambrook where she was greeted by former local resident Sue Forse, whose daughter Lucy was friends with Jenny as they were in the same year together. Chairman of South Gloucestershire Council Ian Boulton along with pupils from the School Council and head teacher Jo Dent welcomed Jenny to Hambrook Primary. She was taken on a brief tour of the newly refurbished part of the school before meeting pupils during a special assembly. The roar from the pupils when Jenny entered the school hall was electric. They also sang her a song and presented her with flowers and gifts.
Jenny then made her way to Downend Secondary School where she met students and head teacher William Roberts. Students asked Jenny lots of questions and got a chance to see her medal before she was whisked away in an open top bus for a victory parade through the streets of Downend. School pupils joined the crowds of people who turned out to cheer Jenny on as the bus made its way along Westerleigh Road, Cleeve Road and Downend Road.
Speaking after the bus arrived in Bristol for a civic reception at City Hall, Jenny said she really enjoyed her day out. "My favourite part was in Downend where I grew up. It was lovely to see everyone cheering and waving, it was a real highlight."
---
Is there anything wrong with this page?