International rugby stars arrive
This news article was published more than a year ago. Some of the information may no longer be accurate.
Published: 29/10/2013
---
The players took time out from preparing for their first match against the USA next week to run an inspirational training session with the young people. They had a go at passing and tried out different ball techniques before a special assembly was held for final year GCSE students.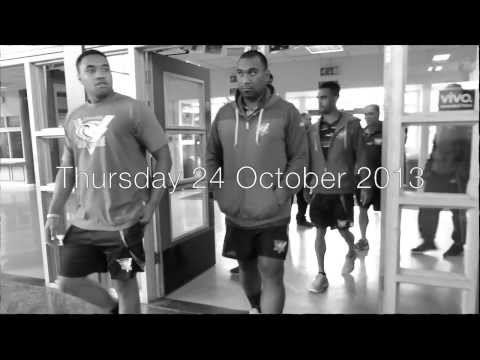 Headteacher Richard Badley said: "We are really pleased to have inspiring international athletes meeting our students, not only through sport, but by sharing their culture and commitment to excellence. We are pleased that so many students choose to compete in competitive sports with local schools, in regional competitions and, for some, on the national stage.
"Students often benefit from coaching and playing opportunities with local clubs including Rodway Tennis Centre, Mangotsfield Football Club, Cleve Rugby, Carson's Cricket and Yate and District Athletics. It is great to have the students here to meet the Cook Island players."
Mangotsfield School students were joined by pupils from local primary schools in the area for the special sporting occasion along with Cllr Ian Boulton, Chairman of South Gloucestershire Council.
Chairman Ian Boulton said: "The Cook Islands World Cup rugby team have been excellent role models for the hundreds of young people they have met since they arrived in South Gloucestershire. It has been a pleasure to see them in action and I hope that lots of people will join us to cheer them on at their match against the USA at the Memorial Ground next Wednesday."
The World Cup gets underway on Saturday 26 October when Australia take on England. Next Wednesday (October 30), the Cook Islands take on the USA at the memorial ground.
More details online at www.rlwc2013.com
---
Is there anything wrong with this page?