Careers event for those with 'Ambition'
This news article was published more than a year ago. Some of the information may no longer be accurate.
Published: 16/10/2012
---
Now in its sixth year, the Ambitions 2012 event takes place over two days on 23 and 24 October at the University of the West of England Exhibition and Conference Centre. Featuring more than 100 local and regional organisations, including employers, universities, colleges, training providers and volunteering organisations, this is a great opportunity for all 13 to 19 year-olds to kick-start their future career.
Parents are being encouraged to come along on the 23rd between 4.30pm and 8pm to discuss their child's career options with industry experts ranging from aerospace and engineering to animal health and welfare, marketing and advertising and the medical and nursing professions. You will also be able to find out more about apprenticeship opportunities, going to university and taking a gap year, by discussing options for the future with professional advisers and world class companies. Representatives from many universities from Oxford to Plymouth will be on hand to offer advice, as well all major regional further education colleges.
Lloyd Harris is from the Kingswood Partnership which helped organise the event with the Concorde Partnership. He said: "For young people, the process of making decisions about the future – what courses to choose and what to aim for in relation to education, training and employment – is becoming increasingly complex. Not only is there a bigger range of possible choices than ever before, but rapidly changing economic circumstances are having a significant impact too.
"The event is open to all secondary schools in South Gloucestershire and students will be able to obtain a clear and realistic view of what particular jobs are actually like and get an insight into the sorts of skills and abilities that local and national employers' value in potential employees."
Around 3,000 Year 9 students from schools across South Gloucestershire have already signed up for the daytime career workshops and Cllr Ian Blair, Chair of South Gloucestershire Council's Children and Young People Committee, said: "South Gloucestershire Council is committed to working with our partners to give our young people the best possible start in life, with high quality education, training and careers advice that equips them with the skills they need to move on into the world of work.
"We are delighted to support Ambitions, which provides an invaluable guide through the training and careers maze with a rare opportunity for first-hand advice and insight from local employers.
"I hope that this year's attendees enjoy the event and we wish them well in their future careers."
Like Mangotsfield School student James Crook, 15, who went along to Ambitions two years ago with his mum Sandra (pictured) and is now well on his way to getting his dream job in the motor trade. When he's not at school, James's passion for go-kart racing has inspired him to become a mechanic working with performance cars and his ultimate ambition is to work within Formula1 racing.
Thanks to the information available at the Ambitions event, he was able to secure a five-day work placement at a garage in Gloucestershire which cemented his passion to work in this industry. Alongside the practical experience, he has also completed an engineering diploma and now hopes to take a BTEC Level 3 course in motor sport and engineering which could see him working at Silverstone.
James said: "I worked in a workshop for five days and helped with the cars, doing some spray painting. I also worked on a Porsche taking the wheels off and cleaning them. My ambition is to race a performance car at the Castle Combe circuit."
Proud mum Sandra, who works at Mangotsfield School which specialises in science and technology, said: "James has been saving up his pocket money to buy a second hand car to work on which he will eventually race. I was helping out at the Ambitions event and got James to come along and I would encourage other parents to do the same with their children and see what is on offer."
The event is organised by the Kingswood and Concorde Partnerships of local schools and further education colleges, with the support of South Gloucestershire Council and the University of West of England. For further details visit www.southglos.gov.uk/ambitions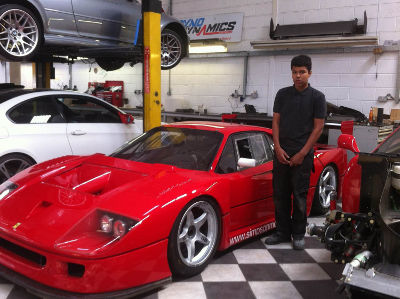 ---
Is there anything wrong with this page?